Welcome back to Hammer Drops, where we expound upon what we've learned in our thirty plus years in the collectibles racket, using recent auctions for illustration and examples. Today, we're looking at few recent lots of modern Horror Comics that sold at auction for between $45-65 a piece.
The Lots
Each lot consisted of 20 comics, all based on modern horror movie franchises like A Nightmare on Elm Street, Friday The 13th, Evil Dead, Texas Chainsaw Massacre, and Child's Play. The majority of these comics were published by defunct DC Comics imprint Wildstorm, but material from smaller publishers like Avatar Press and Devil's Due was included as well. The average price per issue on these lots works out to $3, which isn't majorly impressive for a back issue but is significantly higher than price per issue netted by some long box lots in the same auctions. Why would indie and small press comics, movie tie-ins to boot, do so relatively well?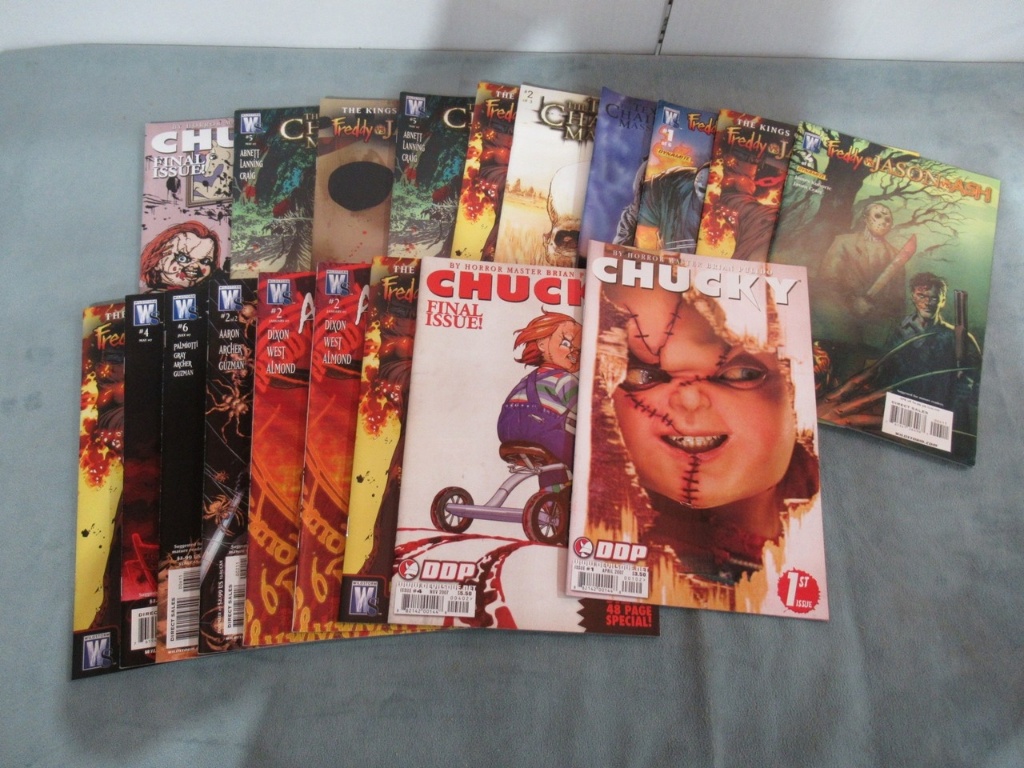 The Teachable Moment: Licensed Comics Are Hard To Make
The secret to their success is that most of the iconic slasher movie franchises have, for whatever reason, particularly thorny ownership situations. Friday The 13th, starring the hockey-masked slasher Jason Voorhees, is perhaps the most infamous offender: since 2016, writer Victor Miller has been battling producer Sean S. Cunningham over the copyright to the original script. The worst case scenario, for fans at least, is that Miller would gain the rights to everything from the original script (Mrs. Voorhees murdering counselors at Camp Crystal Lake to avenge her son) and Cunningham would retain the rights to material from later movies (an undead killer in a hockey mask named Jason Voorhees). The last update about the case I was able to find was from July, which said an appeal had been heard but no ruling yet issued. Until then, the rights to create new content based on the films – comics, video games, new movies, etc. – are stuck in limbo.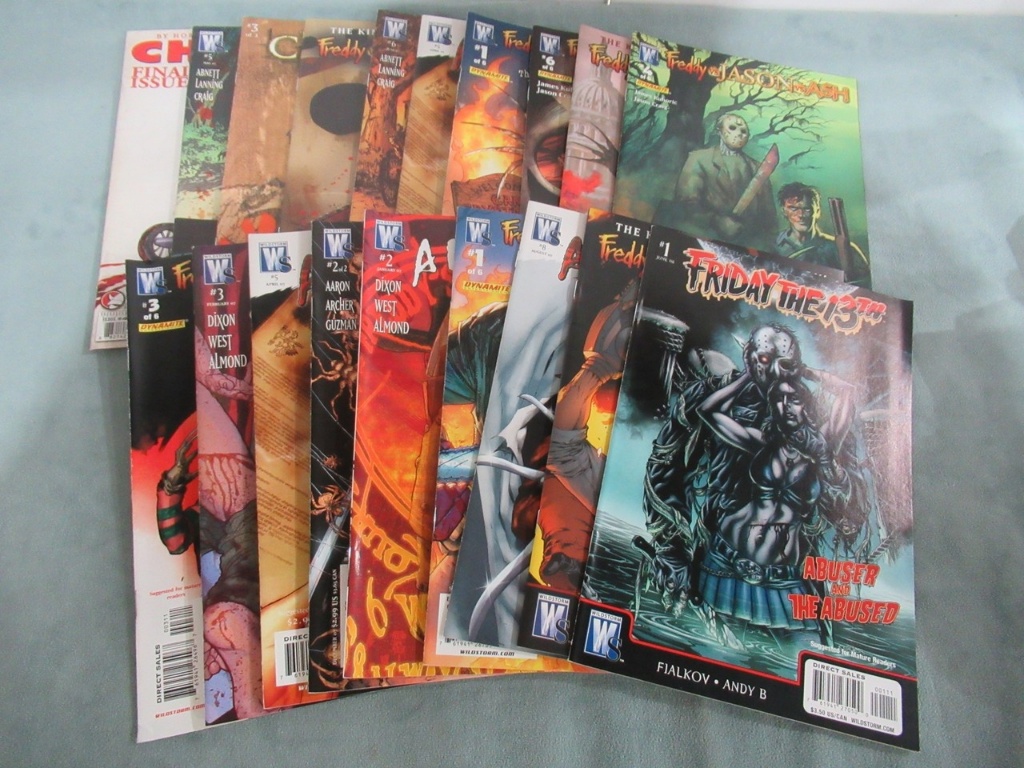 Similar issues affect most of the franchises listed above. The rights to the Evil Dead movies/TV show are held by a different company than those for the film Army of Darkness, limiting characters and concepts that can be used in an adaptation depending on which you license. In 2019, the estate of writer/director Wes Craven quietly took back the rights to A Nightmare on Elm Street from New Line Cinema, and there's no word yet on what exactly that's going to mean (Craven was notoriously critical of the films he wasn't involved in). Writer/Director Don Mancini appears to maintain at least some rights to the Child's Play franchise and killer doll Chucky, developing a television series right now despite the 2019 reboot film being made against his wishes. The end result is that licensing out any one of these franchises is an expensive and potentially risky proposition. As such, comic books based on them are few and far between and go out of print very quickly.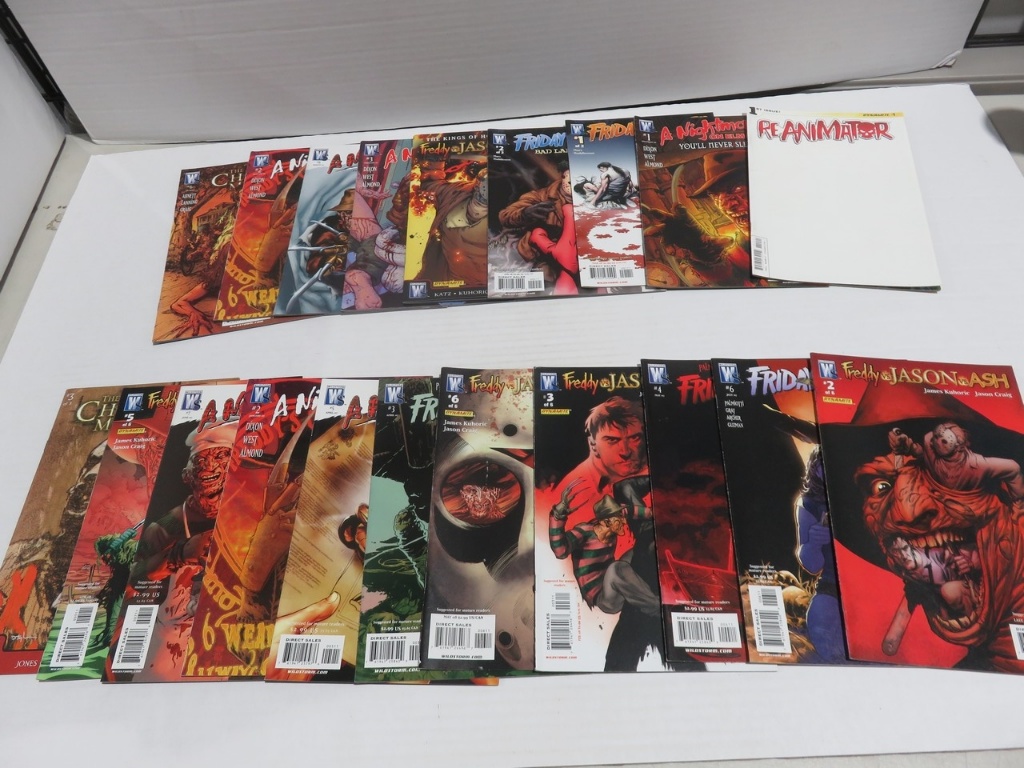 Back to the Past's head camp counselor, Scott Lovejoy, pointed specifically to the Freddy Vs. Jason Vs. Ash duology of mega-crossovers. Each lot mentioned above had issues of one or both FvJvA minis included, and Individual issues of either mini-series can go for about ten bucks under the right conditions. The trade paperbacks can, believe it or not, sell for anywhere between $50 and $200. Due to the legal complexities in licensing from any one franchise involved today, it would take a herculean effort for either mini-series to ever see print again.
If you knew a little bit about comic collecting and speculation, you'd probably look at a pile of 21st century horror movie tie-in comics and assume they weren't anything special. Someone tuned in to the sheer, unexpected difficulty of getting licensed horror comics made knows there's value to them. That's why it never hurts to let experts like Back to the Past look your collection over, or at least listen to our advice every other week when the Hammer Drops.